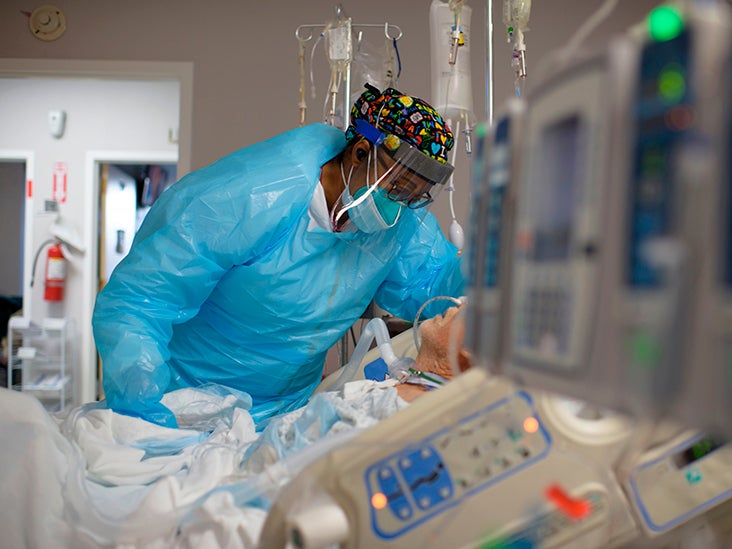 Alzheimer's and severe COVID-19: comparison of markers of brain damage
A study demonstrated that participants hospitalized with COVID-19 with neurological complications had higher levels of blood proteins or biomarkers associated with neurological damage than people with Alzheimer's disease.
Increased levels of biomarkers correlate with severity of COVID-19, mortality risk, and presence of neurological disorders.
Long-term follow-up is needed to determine if elevated biomarkers are associated with an increased risk of developing later neurodegenerative disorders.
COVID-19[feminine, la maladie provoquée par une infection par le SRAS-CoV-2, entraîne souvent de légers symptômes des voies respiratoires supérieures. Cependant, certaines personnes peuvent souffrir d'une maladie grave nécessitant une hospitalisation. Cela peut se produire en raison d'une pneumonie et de lésions pulmonaires provoquant une insuffisance respiratoire.
De plus, des manifestations neurologiques surviennent fréquemment chez les personnes hospitalisées avec la COVID-19. Les troubles neurologiques peuvent inclure l'encéphalopathie, les convulsions, les accidents vasculaires cérébraux, l'encéphalite, Le syndrome de Guillain Barre, et encéphalomyélite aiguë démyélinisante.
Des chercheurs de la NYU Grossman School of Medicine ont mené une étude qui a cherché à savoir si les personnes atteintes de COVID-19 connaissant de nouvelles complications neurologiques pendant leur hospitalisation avaient des marqueurs sanguins élevés indiquant des dommages neurologiques.
Les chercheurs ont publié les résultats de l'étude dans la revue Alzheimer et démence.
Le Dr Thomas Wisniewski, MD, co-auteur de l'étude, professeur de neurologie, pathologie et psychiatrie, et directeur du NYU Alzheimer's Disease Research Center et du Center for Cognitive Neurology, a parlé de l'étude dans un MNT entrevue.
Il a expliqué : « Il est clair que le [SARS-CoV-2] The virus has a propensity to induce vascular injury, target endothelial cells and cause disruption of the blood-brain barrier, as well as induce generalized neuroinflammation. Cytokines like interleukin 6 and interleukin 1 are very high in [individuals with COVID-19], and these are cytokines that lead to neurodegeneration and Alzheimer's disease.
Cytokines are proteins that help cells in the body communicate.
Dr. Wisniewski added: "In our study, we looked at these types of biomarkers, [since these biomarkers] are what we follow in our Alzheimer's disease research center to study the progression of pathology related to Alzheimer's disease and other neurodegenerative disorders.
In an interview with DTM, Jennifer Bramen, Ph.D., principal investigator at the Pacific Neuroscience Institute at Providence Saint John's Health Center in Santa Monica, Calif., who was not involved in the study, described the seven biomarkers measured by the study:
Total tau and pTau181 are indicators of neuronal damage. Their levels increase as AD progresses. In AD, abnormal proteins form tangles, blocking communication between brain cells, she explained.
Ubiquitin L1 C-terminal hydrolase (UCHL1) is an enzyme that breaks down unnecessary proteins in brain cells. Brain damage or neurodegenerative diseases such as Alzheimer's disease lead to increased levels of UCHL1.
Increases glial fibrillary acidic protein (GFAP) levels indicate damage to glial cells. Glial cells help maintain the health of brain cells and the blood-brain barrier, which filters toxic substances.
Neurofilament light chain (NfL) measures damage to the axons of myelinated neurons. The axon is the part of the neuron that conducts electricity and the myelin is the insulation surrounding the neuron.
Amyloid-β (Aβ) 40 and 42 are proteins that accumulate and cause the formation of amyloid plaques in AD, which disrupt brain cell function and communication.
Finally, a person's pTau181 to Aβ42 ratio can identify the early stages of AD.
Investigators also attempted to determine the association between increased biomarkers and home discharge rates and hospital death rates.
To assess the level of injury, the researchers compared serum biomarker levels of a control group of participants who had "normal" cognition. mild cognitive impairment (MCI), and AD with biomarkers of people hospitalized with COVID-19 and new neurological findings.
Researchers conducted a retrospective analysis of participants enrolled in the Study of Neurological and Psychiatric Events in Acute COVID-19 (SNaP Acute COVID Study), which examined serum samples donated by people while hospitalized with COVID-19 .
Dr. Wisniewski explained: "We specifically excluded patients who had pre-existing cognitive impairment, any kind of dementia or mild cognitive impairment, [to prevent clouding of the results]."
The SNaP Acute COVID study was a prospective study of 4,491 participants conducted at four New York hospitals between March 10 and May 20, 2020, that assessed the development of new neurological events during acute hospitalization for COVID-19.
The non-COVID control group included blood samples from the NYU Alzheimer's Disease Research Center Core Clinical Cohort banked prior to January 1, 2020. This was the date of the first reported cases of COVID-19 in New York City. The researchers used validated test tools – version three of the uniform data set and the Clinical assessment of dementia — to stratify control participants into three subgroups: normal cognitive functioning, MCI, and AD.
The study measured blood markers using an ultra-sensitive testing methodology called single-molecule chip technology.
The COVID-19 group consisted of 251 participants with a median age of 71. This group was made up of 63% men. There were 161 participants in the control group with a median age of 71 years. Participants in the control group were 35% male.
The most common neurological complications included toxic metabolic encephalopathy (TME) in 63% of participants and brain damage due to reduced oxygen or blood flow in 46%.
The severity of COVID-19 was most strongly correlated with levels of total tau, pTau181 and NfL.
Higher levels of GFAP and pTau181/Aβ-42 were associated with a significantly increased risk of death during hospitalization. The results showed that elevated levels of total tau, NfL, and GFAP corresponded to decreased rates of discharge home.
Participants with COVID-19 who experienced new neurological events during hospitalization had significantly higher total tau, pTau181, NfL, and UCHL1, with the highest levels seen in those with TME. Participants with COVID-19 had 179% higher NfL, 73% higher GFAP and 13% higher UCHL1 level than the AD group.
Dr. Wisniewski commented:
"In the study, we found very marked elevations of these seven biomarkers, indicating [the] significant presence of neurodegeneration, neuronal death and gliosis. With marked neurodegeneration, neuroinflammation, and – at least at some point – elevated biomarkers of Alzheimer's disease, each […] correlated with the presence of neurological disease and the severity of the infection as well as the outcome.
Dr Braman said: "One of the limitations is that [the study] only looks at hospitalized patients, so it's still unclear whether these biomarkers might be present in patients with less severe COVID-19 symptoms. Future research would be [needed] to understand how long these effects last and how closely they relate to actual cognitive deficits.
Dr. Wisniewski agreed:
"We have been following these patients for 6 months and a year […] and there was persistent cognitive dysfunction [in up to 50% of these folks]. Therefore, it is important to follow this. [P]Perhaps the biomarker findings speak to an increased risk of later neurodegenerative disorders in this population.
For live updates on the latest developments regarding the novel coronavirus and COVID-19, click here.