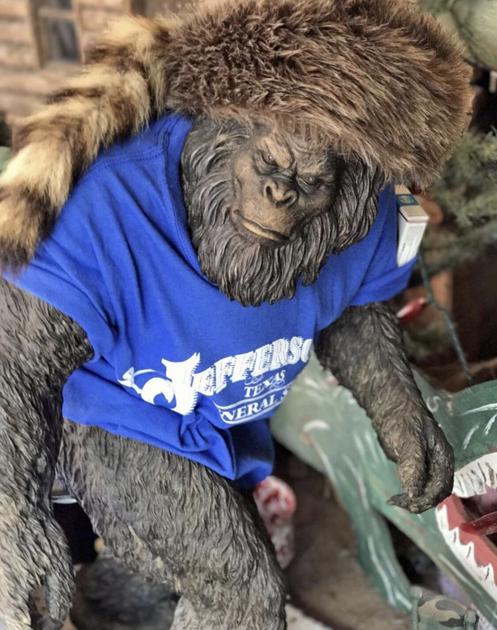 Bigfoot tramples Jefferson on for annual conference | New
JEFFERSON – The Bigfoot capital of Texas will once again be filled with legend seekers from around the world, as Jefferson is once again the host site for the 19th Annual Texas Bigfoot.
Conference founder Craig Woolheater said the weekend event is scheduled for Oct. 16-18 at Jefferson Visitor's and Transportation Center, located at 305 East Austin Street in downtown Jefferson.
In 2018, the city of Jefferson received the official title of "Bigfoot Capital of Texas" with a mayoral proclamation that still stands today.
"Many residents of Marion County have reported multiple sightings of the mysterious Bigfoot – like creatures in and around Jefferson for decades," the proclamation reads. The proclamation, initiated by Woolheater, also recognizes Jefferson as the "geographic epicenter" of Bigfoot's sightings.
Woolheater said this year's conference must be capped at 75% of capacity, or around 260 guests, due to coronavirus orders from Texas Governor Gregg Abbott.
Tickets are still available for the event, including the Friday and Saturday evening catered dinners.
Guests at this year's event can expect to hear from some of the best presenters in the cryptozoology field, as well as have the opportunity to study captured evidence and learn about the new tools and skills. of hunting.
"We have Cliff Barackman from the North American Bigfoot Center, Lyle Blackburn from 'Finding Bigfoot' from Animal Planet," Woolheater said. "We have Shelly Covington-Montana, Texas monster hunter Ken Gerhard, author Lija Fisher is new this year, as is Ed Owen of the Dallas Bigfoot Society."
The Friday evening dinner will include a presentation by Barackman and the Saturday evening dinner, which is prepared by Riverport Barbecue, will include a presentation on "The Legend of Boggy Creek".
Woolheater's annual Bigfoot Conference attracts hundreds of curious Bigfoot believers each year, but it has also established a scholarship fund to benefit two Jefferson High School graduates each year using conference proceeds. The scholarships are awarded each fall.