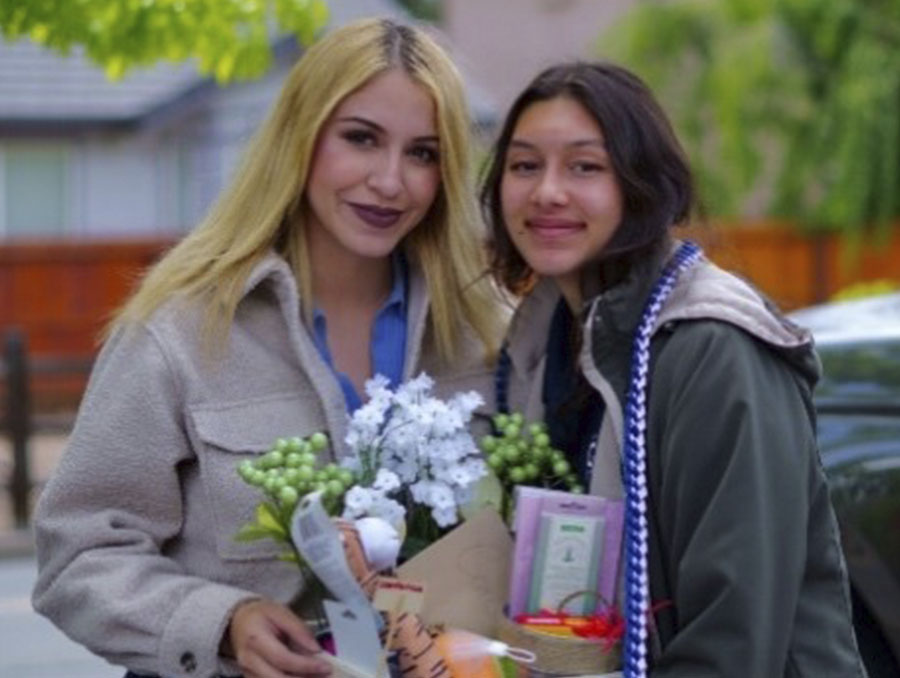 CBESS program connects bilingual high school students in northern Nevada with academia, for more equitable outcomes
Since 1968, National Hispanic Heritage Month has been recognized by the federal government and celebrated annually in the United States, from September 15 to October 15, to recognize the history, culture, and contributions of Americans whose ancestry may be traced in more than 20 countries. in Spain and Latin America. About 60 million people who reside in the United States, representing about 18% of the population, have ancestors related to these countries.
The University of Nevada, Reno School of Medicine (UNR Med) joins celebration of Hispanic Heritage Month as part of its commitment to diversity and inclusion, and its continued efforts to increase representation of Hispanics and other under-represented groups in the health sciences, who serve as health heroes throughout our community.
Emerging bilinguals are the future of health care equity
The Community of English-Spanish Bilingual Speakers Exploring Science and Health Problems (CBESS) is a program supported by the National Institutes of Health (NIH) that aims to increase the number of English-Spanish bilingual students who pursue paths in science, technology, engineering, careers in mathematics (STEM) and healthcare. The initiative is a collaboration between the University's College of Education, the Raggio Research Center, the School of Community Health Sciences and the School of Medicine.
CBESS engages bilingual high school students in northern Nevada to learn a variety of STEM and health science topics through the lens of bilingualism. "Given that 2-5% of practicing physicians and STEM researchers and educators are bilingual in the region, it is essential to train a future generation of bilingual high school students who can use Spanish as an asset to communicate," educate and conduct research that can help our bilingual community, "said Ruben Dagda, Ph.D., Associate Professor, Department of Pharmacology, and CBESS Co-Principal Investigator.
"Premedical pipeline programs and initiatives have been shown to support under-represented students as they prepare for the competitive medical school admission process by providing guidance and mentors," said Tamara Martinez -Anderson, director of admissions at UNR Med. "UNR Med is making great strides in training a wider range of future physicians who can communicate with patients and speak their language, both literally and figuratively.
CBESS connects bilingual rural Nevada students with academics and STEM careers
"Many rural Nevada high school students have limited access to STEM resources, transportation, and the internet, so rural outreach is crucial," Dagda said.
While CBESS has always included rural Nevada counties in its recruitment strategies, a positive element of the pandemic has been an increase in virtual programming and outreach, which has helped develop links with rural high schools. from Nevada. Through three cohorts, CBESS has so far had the participation of students from the counties of Churchill, Douglas, Lyon and Washoe.
But the program aims to expand its reach across even more of Silver State. "In the next round of grants, the focus will be on recruiting almost entirely from rural counties," Dagda said. "We are entering into discussions with other schools in Lyon County, and possibly schools in Elko County, as UNR Med has clinical resources established in Elko County. "
Promoters build cultural bridges through health education research projects
Due to the pandemic requiring fully virtual delivery, CBESS has reoriented its traditional STEM focus and instead teaches pandemic-related topics such as microbial spread; vaccine production, importance and hesitation; health disparities caused by COVID19; and disinformation.
A youth-led group research project is part of CBESS's one-year experience, exposing high school students to academic teamwork, encouraging active learning, and developing critical thinking, communication skills. and decision-making for college preparation.
All student researchers are "promoters" (ambassadors) who engage with the community by doing research, promoting health education and engaging in citizen science. Many students have completed their research projects on health issues related to the pandemic affecting bilingual communities in northern Nevada.
Rose Meza, '21 (Neuroscience) is the Outreach Project Coordinator of the UNR Med and Nevada Area Health Education Centers (AHEC) Fellowship Program, as well as a CBESS Mentor. She facilitates the overall CBESS experience, provides students with one-on-one orientation meetings, leads group research projects, facilitates virtual science conferences, and assists with career exploration events.
"The group that I led studied the global effects of the COVID-19 pandemic on undocumented Hispanic immigrants," Meza said. "They interviewed Hispanic community organizations to collect data and gain insight, and their findings showed that the global impacts of the pandemic have resulted in increased stress for undocumented immigrants, in large part due to the economic shutdown. which caused financial instability. "
The students presented their research results at the end of the program, allowing them to come full circle and gain a deeper understanding of the scientific process, from the development of research questions to training and verification. hypotheses and communicating the results to their peers and university professors.
CBESS links secondary education with post-secondary education – and the big picture
"As a mentor and leadership intern, CBESS enables me to promote diversity at university and at UNR Med and to encourage high school students to realize their full academic and professional potential," said Meza. "It is important to equip STEM fields with a diverse workforce to strengthen the world of science. Further insight will lead to increased scientific research and medical breakthroughs. Different cultures coming together to achieve common goals are beautiful and powerful. "
Prior to being a CBESS mentor, Meza herself benefited from campus cultural organizations and credits them to her successful academic and professional journey. "The UNR Med Latino Medical Student Association (LMSA) connected me as an undergraduate with medical student mentors, provided me with academic and professional advice, and introduced me to opportunities, "she said. "All thanks to my mentors, UNR Med medical students Ngantu Le and Majid Khan, I was connected to extraordinary volunteer opportunities, clinical experiences and resources to prepare for the Faculty Entrance Test of medicine (MCAT). "
Meza sees involvement in student cultural organizations on campus as a key to increasing diversity efforts at the University, which is making great strides towards the goal of becoming a designated institution serving Hispanics, where Hispanic students represent at least 25% of full-time undergraduate students. student population.
At UNR Med, the growing number of Hispanic undergraduate students at the University, combined with outreach and recruitment initiatives and programs such as CBESS, has resulted in a 36% annual increase in the number of Hispanic students applying to UNR Med during the 2020-21 application. cycle compared to the previous year. In the past two years, students who identified as Hispanic made up 20% of new medical students.
"Commitment to diversity begins with an engagement in outreach that exposes and inspires young people from under-represented groups to role models," said Martinez-Anderson. "We know that realizing our vision of a healthy Nevada is beneficial when we enroll students who are collaborative, resilient and adaptable, and who are committed to providing culturally appropriate care in our community.
CBESS will host "Campus con CBESS" on Saturday October 9 with the Latin American Medical Students Association of UNR Med.
For more information on CBESS, contact Jenica Finnegan, MA, CBESS Program Coordinator, at (775) 682-7877 or [email protected]
For a list of Hispanic Heritage Month events, visit the University's events page.