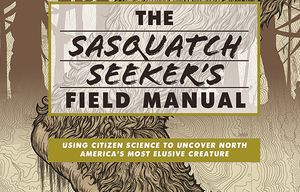 Of monsters and men: 'Field Manual' mobilizes Bigfoot researchers
Seattle author David George Gordon is split on whether Sasquatch is real. But his goal with this field manual is to get thousands of us looking for him.
The Mountaineers publish a field manual for Sasquatch hunters.
Seriously?
Seriously.
APPEARANCE OF THE AUTHOR
David George Gordon
The author of "The Sasquatch Seeker's Field Manual" will discuss his book at 7 p.m. Tuesday, June 23 at Elliott Bay Book Co., 1521 10th Ave., Seattle; free (206-624-6600 or elliottbaybook.com).
A study in cryptozoology may seem like a departure for longtime editors of guides to more reality-based outdoor activities. But "The Sasquatch Seeker's Field Manual" is a serious book meant to fill the Northwest woods with citizen scientists to put an end to the question of whether the hairy giant exists.
Most Read Entertainment Stories
David George Gordon, the Seattle author of the field manual, writes that he is split on whether Sasquatch is real. What he would like to see are several thousand people searching for this primate that has crossed the imagination – and perhaps the forests – of the Pacific Northwest since homo sapiens set foot here. .
The several thousand researchers Gordon envisions shouldn't be wild-eyed dreamers, hoaxes, or unprepared stumbles upon what may be definitive proof of an unrecorded primate species.
There have been plenty already, and the story of Gordon's search for Sasquatch includes the usual suspects. They will be familiar to any reader who has dabbled in Sasquatch literature: the much-reviewed 1967 Patterson-Gimlin film of a Sasquatch—or someone in a monkey costume; John W. Burns, credited with popularizing the name Sasquatch; Ray Wallace and his Bigfoot prints carved out of wood.
What has been lacking in the research so far, Gordon argues, is the careful collection and preservation of evidence that Sasquatch roams the Earth.
Gordon's book is an effort to correct that. His manual explains what it takes for the International Commission on Zoological Nomenclature to recognize a new species. The lack of a type specimen was the deciding factor for Sasquatch, preventing it from being officially included in the 7.8 million living species of the animal kingdom.
A Sasquatch – alive or dead – would seal the deal, but even a partial skull or skeleton would be a foot in the door, so to speak, to recognition by the scientific community.
The effort to prove or disprove Sasquatch's existence can best go forward if those collecting evidence "play by the rules of science," Gordon says. It therefore gives instructions on how to keep reliable field notes, how best to organize search teams, how to properly store hair and feces samples. He recommends the best materials and methods for making casts of footprints, and he discusses the difficulty of gathering valid video and audio evidence in this age of routine manipulation of digital media.
Finally, he recommends the best places to look for Sasquatch. A third of the 4,500 US Sasquatch sightings and reports on the Bigfoot Field Researchers Organization website come from Washington, Oregon and California. Half of those in Canada come from British Columbia. So all of Gordon's recommendations come from these areas, and while you might stumble across a Sasquatch there – or vice versa – Gordon says he's also included these places for their "entertainment value".
They represent a variety of day hikes, from leisurely hikes to longer, more strenuous hikes. And they look like entertaining places to wander, well-traveled snipe hunt or not.
Almost reminds you of a mountaineers guide.